ANNUAL SKY ROVERS AUCTION & FLEA MARKET
The Sky Rovers Auction & Flea Market was held on Saturday, October 21, 2017 at the Phelps Community Center, Phelps New York.
Drawing winners at our 2017 Auction and Flea Market.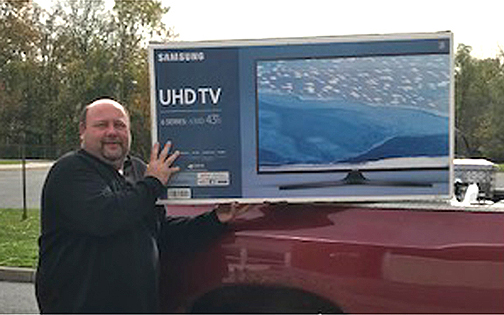 First Prize of a 43" UHD Smart TV
Marcel Morrisseau, Oswego, NY
Second prize of $100
JJ Franklin, Clifton Springs, NY
Third Prize of $50
Dale Pollet, Clifton Springs, NY
We would like to thank Ted Williams for the generous donation of a Butch O'Hare Wildcat geclee' canvas print. It is very appreciated by the club. You should have seen the look of excitement on the face of the young fellow who won the print. The reason the price did not go higher was there were several bidders who realized they were bidding against a young man who wanted it so badly.